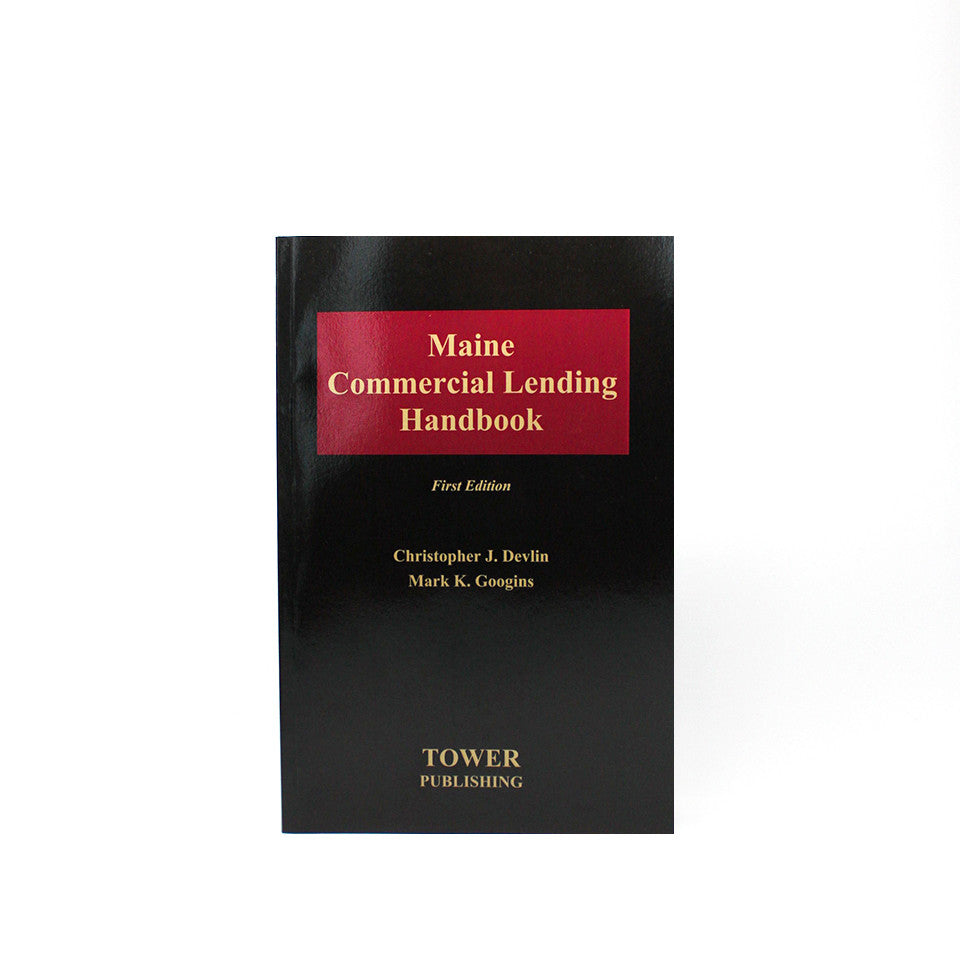 Maine Commercial Lending Handbook
This book is designed to serve as a practical guide to conducting a commercial loan closing in the State of Maine. It is written for the reader that is more interested in competently completing a commercial loan closing than in acquiring a deep knowledge of the legal theory underlying these transactions. This is more of a "how-to" book than a treatise. There are, however, footnotes throughout the book that cite significant and relevant Maine cases. Thus, the seasoned or the out-of-state commercial lender or practitioner will find here a reference list of pertinent Maine authority, including identification of any unique features of Maine commercial law.
Published July, 2011
ISBN: 9780983239154
Shipping: $7.00
Christopher J. Devlin, Esq. is Senior Counsel in the Investments Division of Unum Group in Portland, Maine, where he practices in the area of commercial real estate lending. Before joining Unum Group in 2005, Chris was a shareholder at a Portland, Maine law firm. He is a Fellow of the American College of Mortgage Attorneys and is a graduate of Vassar College and Boston College Law School.

Mark K. Googins, Esq. is a Partner in Verrill Dana's Business Law Group who has concentrated his practice in areas of commercial finance and commercial transactions for the past 27 years. He counsels clients in mergers and acquisitions, in complex commercial negotiations, and in a wide variety of lending transactions, including equipment leasing, leveraged buyouts and sale-leasebacks. Mark is a native of Portland who graduated from Tufts University and New York University School of Law. Before joining Verrill Dana, Mark practiced at Milbank, Tweed, Hadley & McCloy in New York.
Tower Publishing and Casemaker Libra have collaborated to offer an electronic version of the Maine Commercial Lending Handbook. Casemaker Libra offers links throughout the treatise to official citations for cases, statutes, acts, and administrative codes. Also, full-text searching is available with special features to find the topics being searched.  Please click on this link to review this opportunity and costs associated: CASEMAKERLIBRA 
"Googins and Devlin have succeeded in writing the definitive guide to documenting and closing a commercial transaction in Maine. This volume should be at the core of any syllabus used to train commercial bankers. It should also be close at hand as a ready reference for any established commercial banker in the State."  Raymond T. (Chip) Kelley, Sr. Vice President Commercial Banking, KeyBank, Portland, ME
---
---
More from this collection